My husband hates it when I pick up 'roadkill'! When I 'dumpster' dive! But, I LOVE it!!! Nothing beats the feel of 'saving' a furniture life! Getting something for FREE....especially furniture!!! I love fancy furniture. Pieces with scrolls and good lines...It can be expensive!
I don't mind if it's dirty...
If' it's dark and worn...
Nothing a little elbow grease and paint can't clean up....
So, my husband should feel good when I pick up 'roadkill', right?
Link'n up: (i'm learning how to do this...)
Monday
:
It's So Very Cheri
Cottage Instincts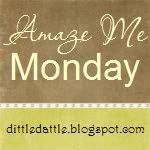 Tuesday:
Reinvented
Today's Creative Blog
New Nostalgia
Lucky Star Lane
Wednesday:
My Backyard Eden
Blue Cricket Design
Trendy Treehouse
The Thrifty Home
Sew Much Ado
Saturday Mornings
Life In My Pj's
Thursday:
Life as Lori
Somewhat Simple
The Shabby Chic Cottage
Beyond The Picket Fence
Cheap Thrills Thursday
Friday:
Fingerprints on the Fridge
Frugal and Fabulous
The Shabby Nest
Furniture Feature Friday
Flaunt it Friday
Remodelaholic
Simply Designing
Frugalicious Friday
Saturday:
Perfectly Imperfect